Prospect House Painting Pros:
Your Best Choice in Interior Painting
Painting can be a complex and time-consuming task. And it's even more challenging when you're tackling it alone. But don't worry! Prospect House Painting Pros, the leading and best house painting company in Prospect, Connecticut, has you covered! Our affordable interior painting services will leave your home look good as new.
Our professional interior painting contractors will go to your home, take measurements and provide an in-depth estimate on your painting project. We only use the best quality paints, guaranteeing clean and professional results, ensuring no mistakes are made — only bright colors making all rooms into something worth coming home to.
With over 20 years of experience, you can trust us for impeccable interior painting jobs that'll last long and exceed your expectations! Our highly skilled painting contractors in Prospect have undergone intensive training and are committed to their jobs, specializing in interior painting projects. They'll measure and inspect your home to determine what we need to do and provide a detailed estimate through the phone or email before starting. You can pick from our package deals and individual services, whichever works best.
Contact us today to begin your painting project ASAP! We'll be happy to give you a free consultation and quote.
Fill out the form below and Prospect House Painting Pros will get back with you as soon as possible.
How Much Will It Cost to Paint a House's Interior?
The expenses of painting a home's interior depend on multiple factors, including the project scope, the paint you're using, and all special finishes needed. Our professional and highly-skilled painting contractors will closely work with you to make a custom estimate based on your unique needs.
Interior home painting is a crucial investment. So, we understand that not all homeowners have unlimited budgets. That's why we're offering several financing options to provide all clients with the painting services they need without breaking the bank!
Why Repaint Your Home Interior?
Painting your home interior is one of the most efficient and simplest ways to give it a brand new flair. However, many homeowners often consider the project costly and time-consuming. Therefore, many procrastinate until their house looks outdated and old. But that is far from the truth. The truth is that with a bit of effort, painting your house interiors can be one of the best investments you can make for your home. And best of all, it only takes a day or two to complete.
When working with Prospect House Painting Pros, rest assured that you're getting the best interior house painting job at a competitive price. We'll finish your project within the agreed timeline or even earlier to allow you to enjoy the benefits of a new look in your residence in no time. We will always complete our projects on schedule and ensure you will be more than delighted with the results.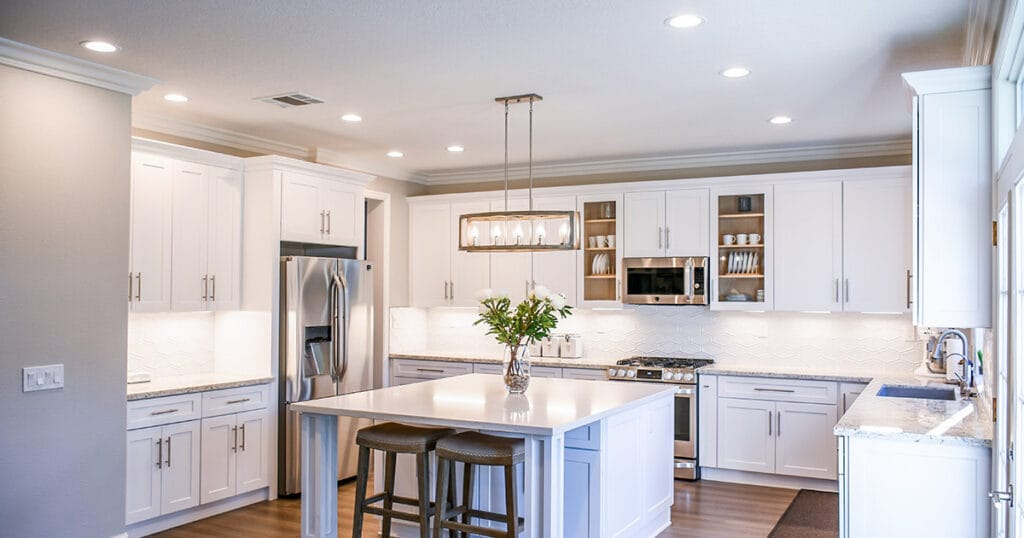 Our Interior Painting Process
We follow a strict and meticulous procedure when painting interiors to ensure we complete the job efficiently and meet the best standard possible. And these steps include:
Our Interior Painting Process
Before doing anything else, we strive carefully prepare your home's surfaces to ensure we don't make any mess or damage your property. Next, we will sand, prime, and clean the surfaces we will paint to ensure it's free from dirt and other gunk. And if we spot any holes or other defects on your walls or ceilings, we will repair those before painting. We do all these to ensure we won't waste time and effort.
We always sketch and plan how to tackle all interior painting home projects before getting into the nitty and gritty. Our expert painting contractors will develop the design of the painting project at least days before. We ensure all hues we use follows your preferences and that the design complements your house's architecture and furniture well. And finally, we provide that all our supplies are in order and have enough to paint for your home.
We'll start painting once we've done our preparation. And this involves applying several coats of paint to all walls or surfaces inside your home, ensuring we cover everything and protect it from damages or wear and tear. No matter how complex or simple the project, we always paint with precision and care, using top-quality paints and tools for the job to ensure the painting lasts for a long time.
After applying the last coat of paint, we'll clean up, including tidying our messes, dusting and sweeping your home, vacuuming, and wiping down all surfaces with a clean, damp cloth. Once we've made your home spotless, we'll inspect our work to ensure everything looks fantastic before signing from the entire project!
Ready to Tackle Your Interior Painting Project?
Working with the best house painting contractors from Prospect House Painting Pros is one of the best investments you can make, brightening up your house and saving you money over time. Our painters are highly skilled professionals specializing in interior painting. They'll guarantee to finish the job right the first time and within the agreed schedule. So, if you're looking to tackle your painting project today, all you need to do is call us or submit an online form. 
We're looking forward to making your dream interior painting project come true!